Caribbean-born Michele Stodart is an award-winning solo artist, singer-songwriter, and multi-instrumentalist now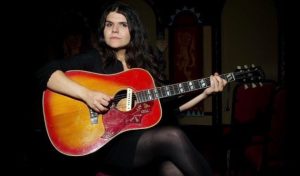 based in London. Best renowned as bassist, vocalist and co-songwriter of Mercury-nominated, double-platinum selling band, The Magic Numbers, with whom she continues to play and tour world-wide.
Michele's diverse skills as a songwriter, multi-instrumentalist, producer and musical director have led to many collaborative projects in the studio or on stage with artists such as Kathryn Williams, Billy Bragg, Bernard Butler, David Ford, Natalie Imbruglia, Ren Harvieu, Charlie Dore, David Kitt, Hannah White, Rachel Sermanni, O'Hooley & Tidow amongst many others.
In 2022, she received public recognition for her talent, when she was awarded the AMA-UK 'Instrumentalist Of The Year' award. In January 2023 she was invited back as musical director at the UK Americana Awards.
Michele will be releasing her third solo album 'Invitation' in September 23 and will be touring in support of the album shortly thereafter.