Los Pacaminos was formed in summer 1992, when UK pop star Paul Young's love of all things Tex-Mex led to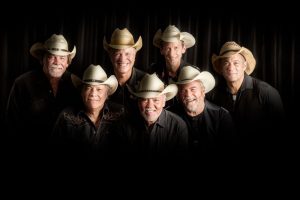 exploratory discussions with some like-minded musician friends. Within a few weeks, Los Pacaminos was born and rehearsals had begun.
The band was originally a six-piece. Joining Paul were guitarist and singer Jamie Moses, accordion/keyboard player Matt Irving, singer/songwriter Drew Barfield, bassist Steve Greetham and drummer Mark Pinder.
In November 1992, the boys took to the stage for their first ever gig at the White Horse in Richmond, Matt's local watering-hole. They went down a storm.
Los Pacaminos are now in their 30th year and show no signs of hanging up their boots. With an unmatched live reputation, two acclaimed studio albums and two live albums under their belts, they continue to explore and perform the music of the Southwest.
Throughout 2023, Los Pacaminos are lining up a series of 30th anniversary shows across the UK. To coincide with the tour, and to celebrate the milestone of three decades together, the band will also be releasing a brand new album.